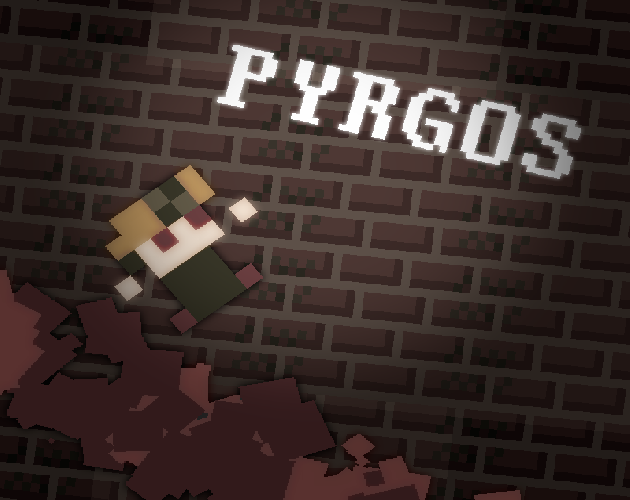 Pyrgos
This was my submission for the Blackthornprod Game Jam #3.
I put a lot more effort into this submission (in my opinion I think I made the graphics a little too overkill). Hope you will enjoy it!
HOW TO PLAY:
You are an archeologist who is exploring an ancient, abandoned tower and looking for the prized artifact inside it. Once you find it, though, the technology of the tower gets activated and a powerful force is released, destroying anything that comes in its path!
You must escape the tower before it swallows and defeats you and makes you history!
What's worse? The force is constantly and slowly increasing in speed, so you must spend less time in the level in order to have a more greater chance of escaping the tower! But be reminded to be careful of spikes and bullets...
CONTROLS:
Left Arrow Key / A: Move left
Right Arrow Key / D: Move right
Space Bar/ Up Arrow Key / W: Jump (You can double jump! And as long as you touch the floor, you can always double jump, even if you are off the floor.)

This game uses Godot Engine, available under the following license:
Copyright (c) 2007-2020 Juan Linietsky, Ariel Manzur. Copyright (c) 2014-2020 Godot Engine contributors.
Permission is hereby granted, free of charge, to any person obtaining a copy of this software and associated documentation files (the "Software"), to deal in the Software without restriction, including without limitation the rights to use, copy, modify, merge, publish, distribute, sublicense, and/or sell copies of the Software, and to permit persons to whom the Software is furnished to do so, subject to the following conditions:
The above copyright notice and this permission notice shall be included in all copies or substantial portions of the Software.
THE SOFTWARE IS PROVIDED "AS IS", WITHOUT WARRANTY OF ANY KIND, EXPRESS OR IMPLIED, INCLUDING BUT NOT LIMITED TO THE WARRANTIES OF MERCHANTABILITY, FITNESS FOR A PARTICULAR PURPOSE AND NONINFRINGEMENT. IN NO EVENT SHALL THE AUTHORS OR COPYRIGHT HOLDERS BE LIABLE FOR ANY CLAIM, DAMAGES OR OTHER LIABILITY, WHETHER IN AN ACTION OF CONTRACT, TORT OR OTHERWISE, ARISING FROM, OUT OF OR IN CONNECTION WITH THE SOFTWARE OR THE USE OR OTHER DEALINGS IN THE SOFTWARE.
Portions of this software are copyright © 2021 The FreeType Project (www.freetype.org). All rights reserved.

Comments
Log in with itch.io to leave a comment.
Very nice and well-polished game! The only annoying part I feel was when the player went out of the frame the camera just teleported to it making some jumps and escaping the cloud annoying.
Otherwise, great job just work a bit more on the camera maybe zoom it out more or have it follow the player!
The reason why it jumps is so that it can keep pace with the player. Might fix it (probably not).
Thanks for the feedback either way!

Great game. I'd use cinemachine to blend camera moves when the player jumps out of frame, but we liked it. 5/5
Let us know what you think of our submission if you have the time "DontJump".
Wow, thanks for that! I use Godot, so I can't really use Cinemachine.
Anyway, I will check out your submission if I do have the time.